Press View : kobi designed a light racetrack for Porsche Centre ! Thank you to Doanh Nhan Plus for the article
Throughout the Porsche Centre Saigon project following the concept "Destination Porsche", kobi lighting studio, in collaboration with Porsche, successfully pioneered the implementation of a state-of-the-art lighting design that synthesized Porsche's brand image of a high-class automotive manufacturer.
Since our end-to-end goal was to turn Porsche Centre Saigon into a destination of inspiration that could elaborate the brand experience here to a new standard, we are proud to have our works acknowledged by Doanh Nhan Plus – a reputable Vietnamese newspaper for business people.
// Article and images below are from Doanh Nhan Plus and from kobi lighting studio. Vietnamese to English translation provided by kobi lighting studio // 
Experience a classy space at Porsche Centre Saigon
The new Porsche Centre Saigon in District 7 has welcomed numerous visitors, proving that this is an ideal destination for customers and the communities of those who love the Stuttgart sports car brand.
The architect of Porsche Centre Saigon focuses on a customer-centric approach with open and dynamic space which offers unique experience tailored according to the preferences of each visitor. Customers can interact with the world of Porsche, learn about the heritage and performance of the tracks that have shaped the Porsche sports cars of today.
"The evolving demand from customers along with the rapid development of e-Mobility require new thinking in investment. The New Porsche Centre Saigon project is a critical step to continuously prove the values and emphasize the core philosophy of Porsche while meeting the diverse demand of customers in experiencing products and services of high-end sports cars", said Andreas Klingler, General Director of Porsche Vietnam.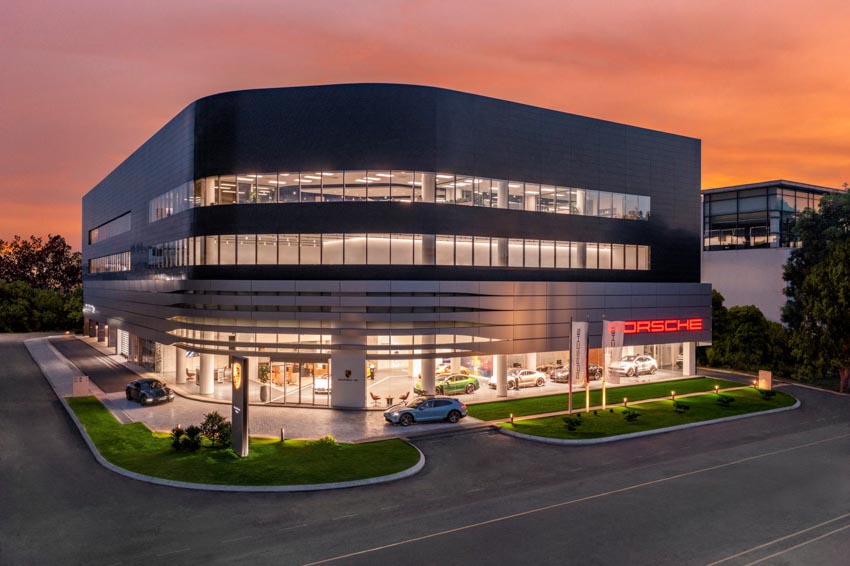 A design that goes beyond the standards of the automotive industry
With a pioneering spirit toward innovation, Porsche Centre Saigon exploited the values of design language and conveyed emotions through the intersection of sports cars and art.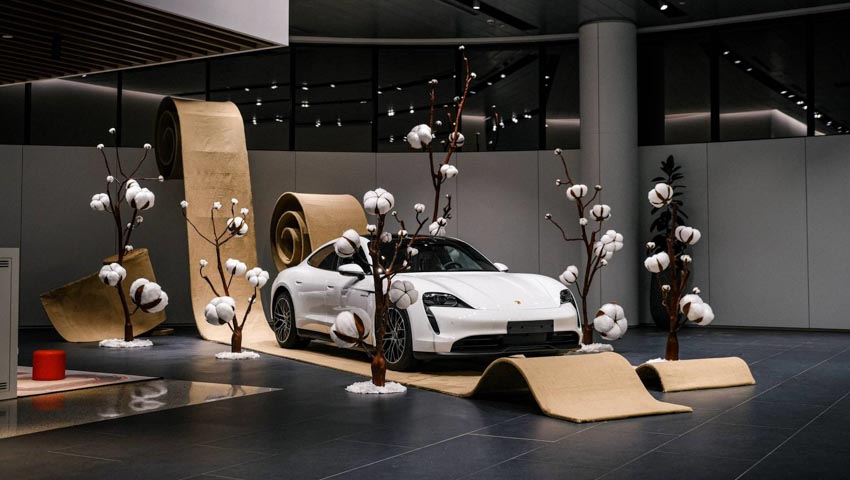 More than being an ordinary showroom, Porsche Saigon Centre elevated the customer experience to a new standard. The lighting system here was delicately designed in consonance with specific areas, profoundly demonstrating the modern spirit, all thanks to the deliberate synthesis between light and dark zones in each area. The combination of neutral light, high-intensity light, and natural light was specially programmed for day and night. The lighting design highlighted the vehicles on display, resembling works of art placed in an exhibition.
This slideshow requires JavaScript.
This not only created a remarkable visual effect on visitors but also emphasized the design language and the strengths of each Porsche model on display at very first sight.
With a total floor area of 13.000 m2, Porsche Saigon Centre consists of one basement and four floors of which three floors are the main functional floors: A showroom that can accommodate more than 20 car models, a fast-charging station for e-vehicles, a modern service center, body repair, and high-tech paint workshops, relaxing and entertaining areas for customers, an integrated technician training area for working and resting.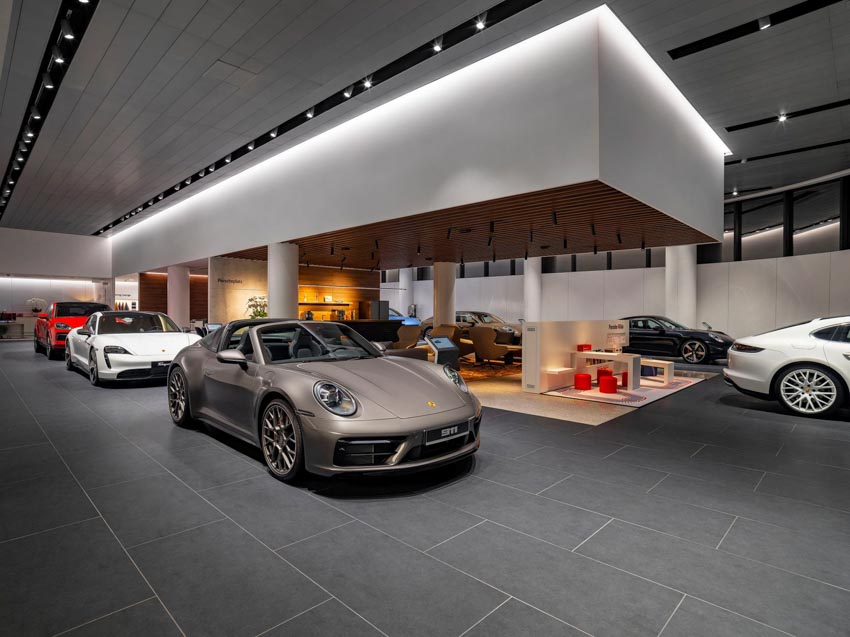 The car display area on the first floor gives a strong impression of Porsche's sports car origin through racing-inspired design features such as the white-painted line on the floor and the car arrangement with the message "Ready to go". From here, visitors can admire all famous Porsche models from the iconic 911 sports car, the mid-engine duo 718 Cayman and 718 Boxster, the Gran Turismo Panamera, the SUV, the Cayenne, the compact SUV Macan, and the electric car Taycan – which represents for e-performance product strategy of Porsche and attracted significant attention from the public since its release on October 2020 in Vietnam.
In order to optimize the experience of e-vehicle customers, Porsche Saigon Centre was equipped with AC (alternating current) charging devices with a capacity of 22kW, and DC (direct current) charging ports with a capacity of up to 350kW. The high-power DC charging post allows the Taycan to be quickly charged in just 22 minutes.
Digital platform is an integral part of the new architectural concept, for example, large screens and interactive solutions allow customers to closely connect and have complete access to the brand. Therefore, information becomes consistent, waiting time is shortened and customer service is more optimized.
In order to bring experiences that goes beyond the box of the sports car market, Porsche created a car showroom that is integrated for customers' relaxation and entertainment. The area called Porscheplatz located on the second floor is a playground for kids, a vehicle configuration area, an extended service center, and also a special Fitting Lounge – where customers can custom their car according to their preferences.
Sustainable development strategy as a core
Porsche Saigon Centre is the first project in the Vietnam automotive industry to achieve a LEED Gold certificate (Leadership in Energy and Environmental Design) – which is precisely demonstrated through each functional area, process, and working space. Typically, the use of paper is limited, high-tech exhaust gas treatment systems and air filtering systems are strictly applied across the whole service center, body repair workshop, and paint workshop, ensuring the goal of providing the maximum safe working environment for technicians while minimizing harm to the environment.
Porsche also concentrates on developing human resources, ensuring a sustainable working environment for staff through the application of a digital-based training system complying with global standards. Above all, the workspace also applies a human-centered philosophy with an open design and green spaces for inspiration and connection.
Together with Porsche Studio Hanoi, launched earlier this year, the new Porsche Center Saigon is part of a strategy to develop the Porsche fan communities in Vietnam and a pioneer in establishing Porsche's brand experience of the future.
About LEED Standard
LEED (Leadership in Energy and Environmental Design) is a system of measurement, evaluation and provision of international standards for sustainability in the construction and operation of green buildings developed by the Public Council. United States Green Program (USGBC). LEED authenticates that a publicly owned building or structure is designed and constructed according to standards aiming toward improving efficiency and effectiveness, along with standards on energy saving, drainage efficiency, reducing CO2, improving the quality of the living environment, improving resource management, and building flexibility in adapting to change. 
---
To learn more about kobi's approach for Porsche Centre Saigon, read the article here.
Article source (in Vietnamese): Doanh Nhan Plus